Notes from the Manager
Related Strips: #73: Look, Up in the Sky; #142: You Got Some 'Splainin' to Do; #143: Phoning It In; #376: Hiding in Plain Sight; #377: History Lesson
Aaand… that's it for Chapter 20 and Book 4 of Multiplex. There will be 12 Books in all, so we're officially at the 1/3 point in Multiplex's main story (although not necessarily in terms of numbers of strips).

Book 5 begins on Thursday. See you then.
In case you don't follow me on Twitter or aren't a fan of Multiplex at Facebook, you may not know that there's a new addition to the Multiplex Store today — prints!
For $15 (which seems to be the going rate for these things from webcartoonists), you can get a 13"x19" print of your favorite Multiplex strip on archival quality glossy paper. There's actually a very limited selection right now, but if you'd really like to order one that isn't currently available, feel free to e-mail me, and I'll see what I can do. (Some strips simply aren't possible to produce that large, and others would take a bit of clean-up/reworking to look good — from a technical standpoint, that is, but also from an artistic one.)
Since I'm producing them myself (on a Canon PIXMA iX7000, if you're curious), you can bet the color reproduction will be as good as possible, and I'm absolutely thrilled with the sharpness of the vector art when it's scaled up to size.
UPDATE: Gretchen's bio strip from the upcoming Chapter 4 eBook has been added to her Cast page.
UPDATE (Thursday, March 24): Thursday's comic will be LATE. Sorry! You'd think that being a full-time cartoonist would mean I would get my strips done, but I get side-tracked on other (Multiplex-related) things a bit too easily, and then other things happen, and things. So, sorry!
But, if you aren't a member of the Club of Awesome, you can read a handful of new-to-you Multiplex stuff in the Chapter 4 eBook, which is available for free online, or 99¢ for the high definition edition: Chapter 4 has 4 bonus strips, 1 guest strip, and 2 extended scenes. The HD edition also has four character bios not in the online edition… since they're in the Cast page already.
Chapter 5 will have 8 bonus strips, so it will take two to three weeks to finish, and the Star Wars prequel (also 8pp) will take about the same amount of time again.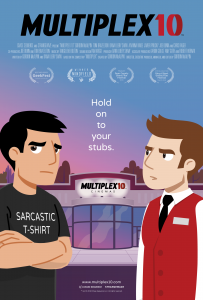 Multiplex 10 is here!
Although Multiplex 10 has ended, an animated prequel/reboot called Multiplex 10 was funded through Kickstarter in 2017 and is NOW AVAILABLE for rent or purchase on Vimeo On Demand, Amazon Video, and elsewhere! And an all-new, irregularly-updated Multiplex 10 web series (set after the short film) recently launched on YouTube! Learn more about the web series on the official Multiplex 10 website!
Stay up to date on all things Multiplex, Multiplex 10 and me (a.k.a. Gordon McAlpin) by subscribing to my newsletter!