Notes from the Manager
Ngh. Sorry, I got a little too serious this time, I think. I won't make too much of a habit of this sort of strip, but after I saw the full trailer at Apple's Quicktime Trailers page last night, I couldn't stop thinking about it, and it screwed any chance of doing something else this week.
I don't want people to think — as I've seen around the internet, in forums or whatever — that Multipex is a "movie review comic," à la Joe Loves Crappy Movies and Popcorn Picnic (both of which I love and highly encourage you to read). It's not… well, not usually. I guess this time is sort of a movie trailer review. But usually, the characters aren't stand-ins for myself, and their opinions are often not in any way related to my own. In some cases — such as the Saw II strip, way back when — I haven't even seen the movie the gang is talking about.
Me, I'm on the fence about the Marie Antoinette trailer. I'll definitely see the movie, though. (I loved Lost in Translation and The Virgin Suicides way too much to not see whatever Sofia Coppola does next.) Becky and Jason are saying a few of the thoughts I've had running through my head, but I can't honestly say I like it (like Jason, whose opinion is usually closest to my own) or not (like Becky). As Becky says, I do think it looks perfect. But what is the deal with the New Order song? One of my favorite things about period films is the period music, so hearing an 80's New Wave pop song (not to mention the black and hot pink movie poster) took me aback, just a bit. I even love that song, but what does it have to do with the film? Is "Age of Consent" even going to be in the movie? The shot of people dancing, thankfully, does look like they're dancing to 18th-century-appropriate music, but you never know.
I know the film's original score will be by Air
, a French band that I used to consider one of my favorites until they unleashed 10,000 Hz Legend on the world and made me want to stab my ears out. (Their latest album, Talkie Walkie, is pretty good, but they will never totally compensate for the wretchedness of their second album.) Air's Virgin Suicides score was really good, and I hope they'll adapt their talents to the subject matter well. But again, you never know.
I guess what I'm saying is, I hope we get something a little closer to Vangelis's slightly (but not jarringly) anachronistic, synth-laden score for Chariots of Fire and as far away from the "We Will Rock You"-sporting Knight's Tale as possible.
Support Gordon McAlpin on Patreon!
Although Multiplex has ended, thanks to readers like you on Patreon, the Multiplex 10 will stay open for business! I'll be posting bonus comics from future print collections, Multiplex Movie Review strips, updates on the upcoming Multiplex 10 animated short, and, of course, other non-Multiplex stuff.
In addition to the warm, soothing feeling of being a patron of the arts, Patreon supporters get access to free Multiplex eBooks, sneak previews of upcoming comics and other behind the scenes peeks, sketch giveaways, and more!
Deleted Scenes Blog
Bonus comics, drawings,
movie trailers and more
Sunday, April 23, 2017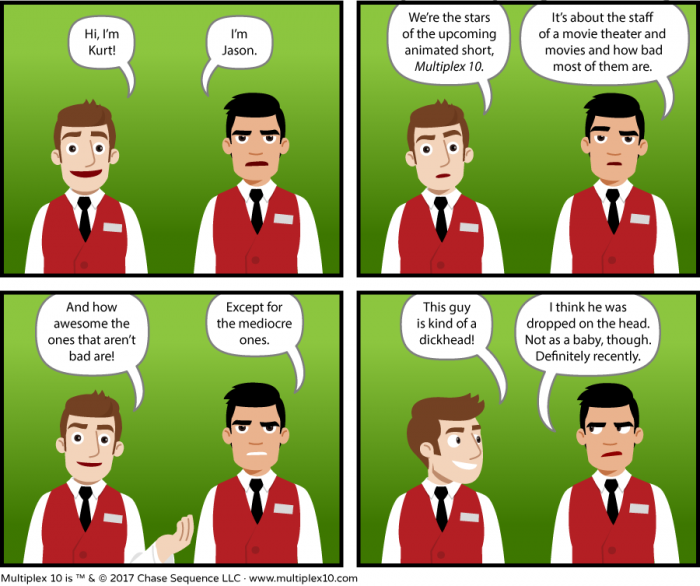 Hello! The Multiplex 10 Kickstarter project ends in just over 14 days. As of this writing, we are a little north of $12,000, so just over 80% of our base goal. Judging from my last two Kickstarters, we're doing very well. The final week should pick up considerably over this past week.
BUT don't forget that we still have a milestone goal of Jason reviewing every Harry Potter movie if we make that $15,000 baseline goal on/before Wednesday, April 26th, though! (Plus Fantastic Beasts if we make it on/before Monday, April 24th. But that seems kind of unlikely at this point.) I thought that was a fun premise… but it's up to the Gods of Kickstarter now.
I also officially added our first (and, at this point, only) STRETCH GOAL. At $20,000, we'll be able to do a few extra things:
Smoother, 4K animation
5.1 Surround Sound mix (courtesy sound designer Ian Vargo)
AND… a theatrical premiere at the Somerville Theatre here in Somerville, MA. (All backers at the Special Thanks level and up will get free admission… although, of course, transportation is not provided.)
Thanks so much for all your support. I'm exciting at how the Kickstarter project is coming together, and I can't wait to get started on the animated short. (Full time, I mean. I'm already working on it!)
Pledge your support today! If you haven't already!
Other Recent Posts