Notes from the Manager
Related Strips: #431: Evil to the Last Drop; #432: In the Zoned; #440: Demons of the Inner Variety, Part One; #441: Demons of the Inner Variety, Part Two
If you're coming here from StumbleUpon, for God's sake, go to the New Readers page. You're coming in on page 441 of an ongoing series. Don't think you'll be able to just jump in and know what's going on. Because you won't.
For regular readers, I just wanted to mention that you have two options for following Multiplex via Twitter: @multiplex10, which is JUST the Multiplex updates. OR, you can follow me (@gmcalpin) for Multiplex and Movie Make-out updates, other links, random rants, and whatnot. A whole lot of whatnot, as a matter of fact.
You can also follow just the Movie Make-out feed via Twitter at @moviemakeout as of today.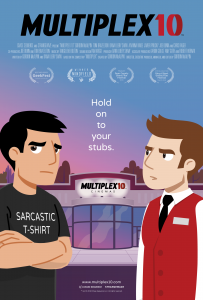 Multiplex 10 is here!
Although Multiplex 10 has ended, an animated prequel/reboot called Multiplex 10 was funded through Kickstarter in 2017 and is NOW AVAILABLE for rent or purchase on Vimeo On Demand, Amazon Video, and elsewhere! And an all-new, irregularly-updated Multiplex 10 web series (set after the short film) recently launched on YouTube! Learn more about the web series on the official Multiplex 10 website!
Stay up to date on all things Multiplex, Multiplex 10 and me (a.k.a. Gordon McAlpin) by subscribing to my newsletter!