Notes from the Manager
Related Strips: #29: And the Winner Is…; #42: A Meeting of Minds
Yes, that's Becky with Melissa in panel 1. She's debuting her new look. Multiplex has gotten a bit more detailed since she was first introduced, and Becky's old face just didn't seem to fit anymore. So, I gave her a new haircut and some new glasses.
I'd had a small storyline written around it, but at the last minute, I decided to toss it and go a different route. One day, the full story of Becky's makeover might be revealed — but not today...
EDIT: I got around to adding the epic tale of Becky's makeover into the Chapter 2 eBook.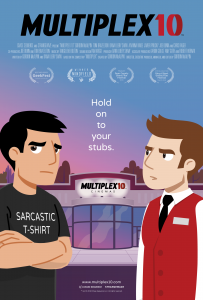 Multiplex 10 is here!
Although Multiplex 10 has ended, an animated prequel/reboot called Multiplex 10 was funded through Kickstarter in 2017 and is NOW AVAILABLE for rent or purchase on Vimeo On Demand, Amazon Video, and elsewhere! And an all-new, irregularly-updated Multiplex 10 web series (set after the short film) recently launched on YouTube! Learn more about the web series on the official Multiplex 10 website!
Stay up to date on all things Multiplex, Multiplex 10 and me (a.k.a. Gordon McAlpin) by subscribing to my newsletter!