Notes from the Manager
Related Strips: #295: Common Courtesy
There's a coupon code for $2 off any of the T-shirts in the Multiplex Store up for past, present, and future Kickstarter backers, so if you've had your eye on a T-shirt, pledge at any level today!
We're fast approaching the $3000 mark! Don't let it slow down just yet!
Regarding today's strip — I was at a theater in Bloomington, Indiana, last weekend where they actually did this: some poor employee had to stand in front of the theater and run through this whole spiel about the refills and emergency exit instructions (which were just as stupid as this) and some other bullshit before every single show.
I was absolutely stunned that the theater managers/owners thought this was a good idea, but hell, maybe it actually boosted their concessions sales or something. I can't imagine it accomplished anything else.
ALSO! An interview with me about Multiplex and the Kickstarter Project has gone up at Gapers Block, my hometown news blog site thing. It covers a bit of ground that I don't believe I've ever touched on in other interviews — like how I got into comics in the first place and Multiplex's relationship with Chicago — so even if you've read most of my other interviews, you should checkitout!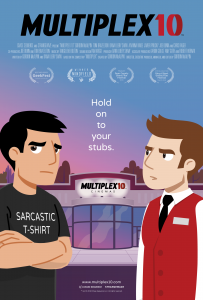 Multiplex 10 is here!
Although Multiplex 10 has ended, an animated prequel/reboot called Multiplex 10 was funded through Kickstarter in 2017 and is NOW AVAILABLE for rent or purchase on Vimeo On Demand, Amazon Video, and elsewhere! And an all-new, irregularly-updated Multiplex 10 web series (set after the short film) recently launched on YouTube! Learn more about the web series on the official Multiplex 10 website!
Stay up to date on all things Multiplex, Multiplex 10 and me (a.k.a. Gordon McAlpin) by subscribing to my newsletter!