Notes from the Manager
Yes, in case you don't pay attention to these things, X-Men Origins: Wolverine got leaked to the internet in a near-DVD quality transfer on April 1st. It's an early cut, about fifteen minutes shorter than the final cut bound for theaters — possibly done before the movie's copious reshoots had been done.
Don't watch it. It's unfinished, for one thing. For another, watching big-budget action movies on tiny little video files (even blown up to your big-ass TV) is… it's just not the same. If you don't understand why, get your eyes and ears examined; I'm not going to waste bandwidth explaining it to you.
Even terrible action movies can be fun on the big screen — and if you don't think Wolverine is going to be worth that much entertainment… why do you want to waste two hours of your life watching it?
Oh, by the way: this week's Triple Feature (wherein we will discuss Adventureland and Fast and Furious) will be on Wednesday night at 9PM Central, rather than tonight/Monday, because Tom Brazelton was tied up at a comic book convention this weekend and will still be travelling. Tune in Wednesday (or just wait for the podcast).
The Multiplex/Night Projectionist Give-away is now closed for entries. Go read in the forum and post about who you think should win. My opinion is easily swayed. I will announce the winners on Thursday.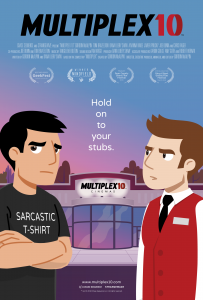 Multiplex 10 is here!
Although Multiplex 10 has ended, an animated prequel/reboot called Multiplex 10 was funded through Kickstarter in 2017 and is NOW AVAILABLE for rent or purchase on Vimeo On Demand, Amazon Video, and elsewhere! And an all-new, irregularly-updated Multiplex 10 web series (set after the short film) recently launched on YouTube! Learn more about the web series on the official Multiplex 10 website!
Stay up to date on all things Multiplex, Multiplex 10 and me (a.k.a. Gordon McAlpin) by subscribing to my newsletter!