Notes from the Manager
Related Strips: #297: Devil in a Red Vest; #300: Something Is Rotten in the State of Denmark; #324: Spilling the Beans, Part Three; #329: Liar's Remorse; #330: Deal with the Devil
This is going unstated, although I think it's obvious enough, but whatever Gretchen's original intent was (access to information, undoubtedly), Gretchen called in the favor Curtis owed her by having him give her a job at Flickhead Video.…
What happens with Allen remains to be seen (we'll find out soon), and of course we can't forget about Franklin, can we…? ;)
UPDATE: On The Triple Feature, we've got a little contest going — between ourselves, that is. Joe, Tom and I have a little Oscar pool set up (we discussed our picks for the Big Six on the latest show, as well as Confessions of a Shopaholic), and the two losers have to draw a guest strip for the winner… meaning no matter which one of us wins, you guys do!
Here's my ballot, so you can keep me honest! I'm terrible at these things, so it's pretty much a given that I'll be drawing a guest strip for somebody. sigh
Multiplex News & Updates
Bonus comics, drawings, and
other awesome stuff
Thursday, June 15, 2017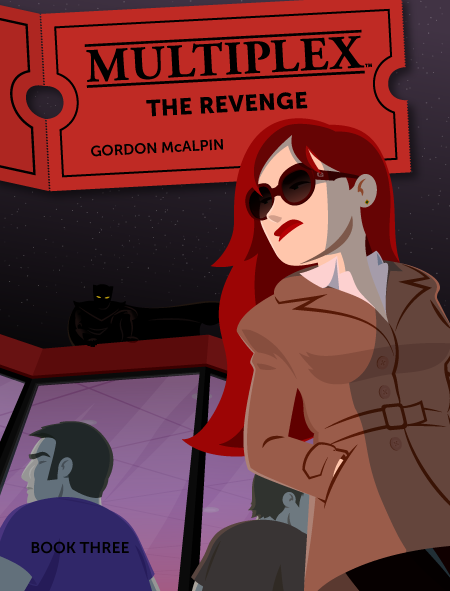 Multiplex: The Revenge (Book Three) is now available in the Multiplex Store! (Only regular/unsigned editions are available at this time; I'll add artist's editions once all of the Kickstarter rewards have been fulfilled.)
Multiplex: The Revenge collects chapters 11–15 of the series (strips #217–338, which ran from March 2008 to March 2009), plus over 30 bonus comics — including an all-new stories sets on opening night of The Dark Knight and Zack Snyder's Watchmen! If you miss Multiplex and would like to see more with these characters, the book collections are for you.
Head on over to the Multiplex Store and check it out today!
Other Recent Posts