Notes from the Manager
Ah, words.
For the record, I did think the plot of Eagle Eye was too proposterous and too derivative to really enjoy the movie (and I'm not the only one), but my issue with the film is entirely with the script. If you don't mind for your action movies to make absolutely no sense at all, it is well-acted and well-directed; you might dig it.
I'll leave it at that — spoiler-free — for here, but if you tune into The Triple Feature episode #92 tonight — or download the podcast later this week — I'm sure we'll get into spoiler territory. (You can also subscribe via iTunes and never miss an episode.) As always, Theater Hopper's Tom Brazelton, Joe Loves Crappy Movies's Joe Dunn and myself will be discussing a few of the week's new releases: this week being Eagle Eye, Choke, and possibly something else.
We'll also be answering some questions, if you have any. E-mail us at group@thetriplefeature.com with your questions about movies, our comics, or whatever, and we'll pick the most interesting ones.
Jason's description of the chase scene in question is as accurate as I could manage from my notes. Although I don't seriously think that geographic accuracy is a very strong reason to criticize a pulpy action movie, I did get more than a few laughs out of the complete lack of any attempt to keep things true to the real-life Chicago. The Wilson L station and one of the intersections named in the chase — Sheridan and Granville — are a short ride down the Red Line from where Jason grew up (in Rogers Park), so it makes sense that he would immediately notice the disparities. You can see a bit of this chase scene over at Trailer Addict.
You can also see the trailer for the documentary Man on Wire — the poster behind Kurt in the last few panels — here:
Putting the poster back there was really more of an in-joke with myself than anything else, but familiarity with the movie — which is about a man who walked between the two World Trade Center towers on August 7, 1974 — may add a very tiny extra dimension to the title.
Multiplex News & Updates
Bonus comics, drawings, and
other awesome stuff
Saturday, July 1, 2017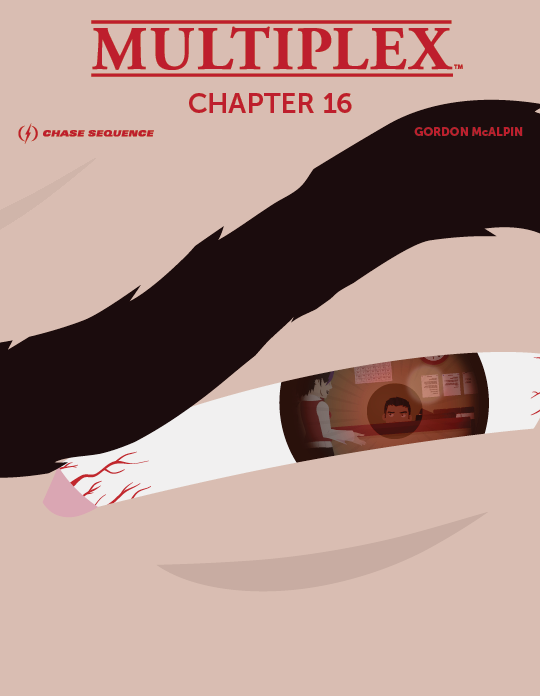 $3+ Patreon supporters get this one for free (until the next eBook is available), but for the rest of youse: The Multiplex: Chapter 16 eBook is now available!
Chapter 16 collects strips #339 –362 from the Multiplex archives, plus four bonus comics and one "extended scene" not found in the archives! Chapter 16 costs $1.99.
Supporting the Multiplex chapter eBooks helps make future Multiplex print collections possible. Thank you for your support!
Other Recent Posts