Notes from the Manager
Related Strips: #268: Old School, Part One; #269: Old School, Part Two; #270: Seems Like Old Times, Part One; #271: Seems Like Old Times, Part Two
So tired. Too much detail to finish before I crash out tonight, so here it is without color shading/toning in the first four panels. (EDIT: It will still be in sepia tones, not "color," like the last panel in #271. I was tired when I wrote that. Poor word choice.)
"Blewitt," incidentally, refers to Kenneth Blewitt, the manager of the Regal Theater from 1939 through 1959. He was the first Black movie theater manager in Chicago.
Thanks are due to Jason Nellis, for a little research assistance earlier in the month. (Jason says, "Go to Hulu.")
OH! And, Chicago-area comic book readers — especially those on the north side — would do well to check out Third Coast Comics. It's existed for some time as a mail order service, but it just opened a brick-and-mortar store at 6234 N. Broadway in Edgewater. It's a terrific little shop, with a fantastic mix of indie and mainstream stuff.
UPDATE (8/23): Finally finished toning them. Thanks are due to Jason Bryant (a.k.a. CodeGuy) for a bit of assistance toning one of the panels!
Multiplex News & Updates
Bonus comics, drawings, and
other awesome stuff
Thursday, June 15, 2017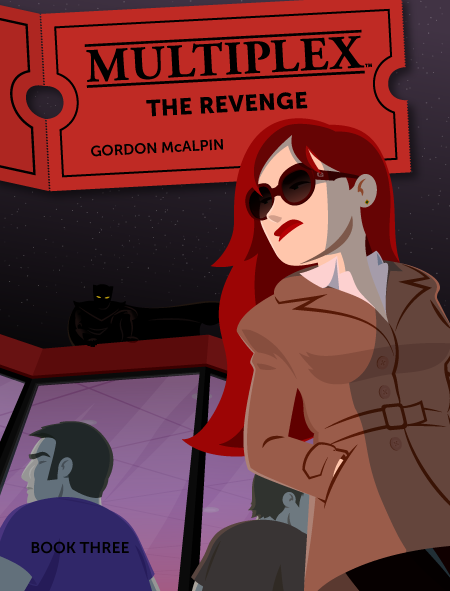 Multiplex: The Revenge (Book Three) is now available in the Multiplex Store! (Only regular/unsigned editions are available at this time; I'll add artist's editions once all of the Kickstarter rewards have been fulfilled.)
Multiplex: The Revenge collects chapters 11–15 of the series (strips #217–338, which ran from March 2008 to March 2009), plus over 30 bonus comics — including an all-new stories sets on opening night of The Dark Knight and Zack Snyder's Watchmen! If you miss Multiplex and would like to see more with these characters, the book collections are for you.
Head on over to the Multiplex Store and check it out today!
Other Recent Posts