Notes from the Manager
Related Strips: #125: All Right, Already
Uh… well, this was supposed to be about The Dark Knight, but two things happened: (1) the Watchmen teaser slipped onto the interwebs a day early, and (2) I realized I didn't have anything to say about The Dark Knight since I haven't seen it yet. So, Monday, then.
To those of you who aren't quite as up on your movie trivia as most Multiplex readers and couldn't figure it out (and can't be arsed to click on the related strips, which would have explained it to you), Slow-Mo Spartan Storybook Time means 300, which was — like Watchmen — directed by Zack Snyder.
If you haven't seen 300, this clip from early in the film will give you a taste. (Unfortunately, the only example of the incessant narration Jason is referring to with the "Storybook Time" part is at the very end, at about the 8:00 mark.) While some of the slow-mo stuff looks neat enough, it just seems like a big fat exclamation point on whatever is going on in the movie at the moment — and after a full movie of it, it gets annoying. Very, very annoying. (To Jason, not Kurt.)
The slow-mo bits in the Watchmen trailer seem to hint at more of the same — although admittedly this sort of thing is (over)used constantly in trailers these days, even when it's not used in the actual films.
Multiplex News & Updates
Bonus comics, drawings, and
other awesome stuff
Saturday, July 1, 2017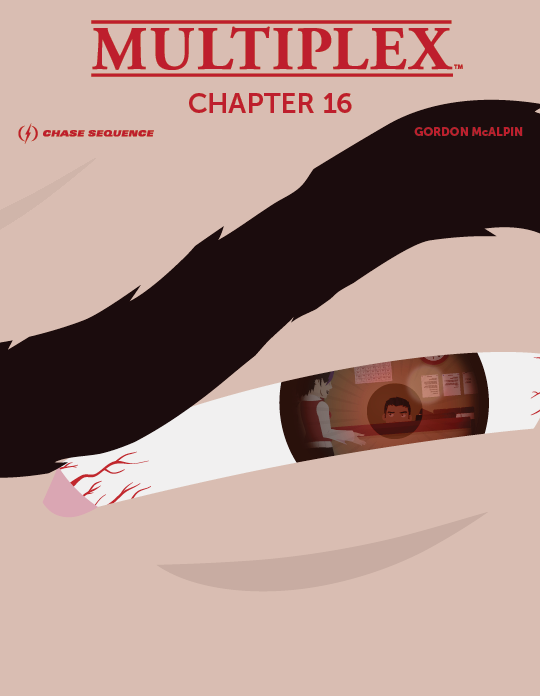 $3+ Patreon supporters get this one for free (until the next eBook is available), but for the rest of youse: The Multiplex: Chapter 16 eBook is now available!
Chapter 16 collects strips #339 –362 from the Multiplex archives, plus four bonus comics and one "extended scene" not found in the archives! Chapter 16 costs $1.99.
Supporting the Multiplex chapter eBooks helps make future Multiplex print collections possible. Thank you for your support!
Other Recent Posts