Notes from the Manager
Related Strips: #1220: The Last Reel, Part Twenty
I drew panel four last, for sentimental reasons.
The past twelve years of my life have… for better and for worse… been defined by Multiplex. It was my first taste of any degree of "success" in webcomics. (Stripped Books always just seemed to confuse people. In light of how popular non-fiction comics are now, I'm not sure if it was ahead of its time or just bad.) This strip undeniably started off rather crudely in more ways than one, but I think it matured over the last twelve years into something unique in comics.
No matter how good or bad my life got in the last decade, Multiplex was always there. Sometimes I loved it, sometimes I resented it, and sometimes I was just embarrassed by it, but it was always there. And I love it for that. So although the webcomic has now ended, I can't say goodbye to these characters — not entirely.
After a little mourning period, in the near future, I'll start doing Multiplex bonus comics for Book Four over on Patreon, as well as posting things about another, non-Multiplex comics proposal I will be shopping around to publishers.
I'll be posting about some of these projects on Twitter and the Multiplex Facebook page, but if you're not addicted to social medias, you can follow my newsletter to keep up with the big announcements about my comics and other creative work. I won't use it too often. I hate spam, too.
Oh right… There was one other Multiplex thing I was going to mention.
As some of you will already know, Multiplex was first conceived as an animated short... maybe twenty years ago? I didn't have the writing or animation skills to pull that off at the time — so I forgot about it, only to resurrect the idea later as a comic strip. But obviously I've written Multiplex for over a decade, and in the last few years I've done a lot of of freelance storyboarding and animation projects, as well as a few other experiments. (Thanks, grad school!) So now it's time for me to dust off the idea of animating Multiplex again — as an eleven-minute animated short, called Multiplex 10. I'll get to the significance of the title later.
It is conceived as a pilot for a series — but animation is way more time-consuming and expensive than comics, so… let's just focus on the first episode for now. :) Here's the Kickstarter pitch video, to cover the basics:
You can learn more on the Multiplex 10 Kickstarter Project Page and the official Multiplex 10 website. There are some limited (discounted) rewards, though, so hop in early! Early pledges really help establish a Kickstarter project's momentum.
I wanted to make the Kickstarter page as accessible as possible to people who are completely new to these characters, so here are some additional details for you Multiplex fans:
It will start off as part prequel and part reboot, with Kurt and Jason and the rest at 17 or 18. It is a completely different continuity, so there will be a few differences between the two — the biggest of which being that the characters won't age, and it will get a little weirder… eventually (like the movie and other hand-drawn sequences).
Essentially, Multiplex 10 is my way of doing Multiplex forever, with what I think is the quintessential version of the premise: Jason and Kurt in red vests forever. Or haven't you noticed that I never draw sketches of them dressed as managers? Some of you will miss the grown-up versions of the characters, as will I. You can think about this "reboot" the way I do: like short films made by "the real" Jason and Kurt.
In other words… Multiplex 10 is Book Ten of Multiplex.
Anyway, I hope you'll consider supporting the short. And even if you can't afford to pledge or you're already supporting me through Patreon or you think the ACLU needs money more than I do (fair point), please share the Kickstarter project with your friends on the social medias. Especially the ones who work at movie theaters. ;)
<deep breath>
So with that… I'm grateful to all of you, for the overwhelming amount of love and support you've given me in the last twelve years. It has meant everything to me.
Thank you for reading.
— Gordon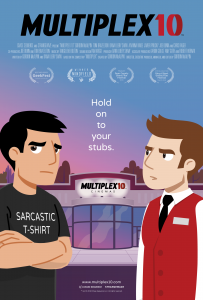 Multiplex 10 is here!
Although Multiplex 10 has ended, an animated prequel/reboot called Multiplex 10 was funded through Kickstarter in 2017 and is NOW AVAILABLE for rent or purchase on Vimeo On Demand, Amazon Video, and elsewhere! And an all-new, irregularly-updated Multiplex 10 web series (set after the short film) recently launched on YouTube! Learn more about the web series on the official Multiplex 10 website!
Stay up to date on all things Multiplex, Multiplex 10 and me (a.k.a. Gordon McAlpin) by subscribing to my newsletter!