Notes from the Manager
Related Strips: #468: It's a Miracle; #608: Sorted Out; #1202: The Last Reel, Part Two
Chris here is the last remaining Multiplex "supporting character" from the Book Three Kickstarter. Say hi, Chris LeFevre. Sorry if he doesn't look much like you.
"Little Neo" is also known as "The Golden Child" or just Ted. He had a growth spurt a while back, but I forget which strip.
Francis is new.
Also, since Multiplex is ending in the next couple of months, I have started a tinyletter so you people can stalk me more easily. I'll use it to send uh tinyletters about my upcoming (Multiplex and non-Multiplex) projects and junk like that. It's basically a very simple e-mail newsletter. I won't use it often; just to give you the heads up on Kickstarter projects launching and whatnot, since not everyone can afford to support my creative endeavours via Patreon.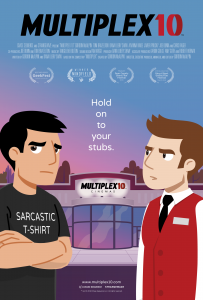 Multiplex 10 is here!
Although Multiplex 10 has ended, an animated prequel/reboot called Multiplex 10 was funded through Kickstarter in 2017 and is NOW AVAILABLE for rent or purchase on Vimeo On Demand, Amazon Video, and elsewhere! And an all-new, irregularly-updated Multiplex 10 web series (set after the short film) recently launched on YouTube! Learn more about the web series on the official Multiplex 10 website!
Stay up to date on all things Multiplex, Multiplex 10 and me (a.k.a. Gordon McAlpin) by subscribing to my newsletter!