Notes from the Manager
Related Strips: #1008: End of an Era, Part Five; #1176: This Is Our Year; #1185: This Ends Now, Part Two
By the way, work on Multiplex: Book Three has finally started up again. It'll be a few days before anything appears there, but I'm finished with the main production stage of the food safety videos I've been sidelined by. There's still more work to do on it, but the vast majority of the work is now complete. WHEW.
(Kickstarter wasn't loading for me yesterday when I tried to announce this, but I let Patreon know.)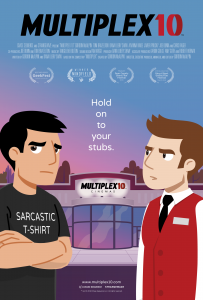 Multiplex 10 is here!
Although Multiplex 10 has ended, an animated prequel/reboot called Multiplex 10 was funded through Kickstarter in 2017 and is NOW AVAILABLE for rent or purchase on Vimeo On Demand, Amazon Video, and elsewhere! And an all-new, irregularly-updated Multiplex 10 web series (set after the short film) recently launched on YouTube! Learn more about the web series on the official Multiplex 10 website!
Stay up to date on all things Multiplex, Multiplex 10 and me (a.k.a. Gordon McAlpin) by subscribing to my newsletter!