Notes from the Manager
Related Strips: #1058: Left Out
I wanted to call this "Bro Code," but I already used that. :( That's one of the problems of doing a comic for ten years… It's hard to not repeat titles. (I've done it before, but only accidentally.)
If the Finding Dory poster wasn't a tip-off, Multiplex is slipping away from being set in the present day for the time being; I need to go into more detail with this storyline, since it's the climactic one and all of that.
See you Friday, when Jason and Katie have a conversation!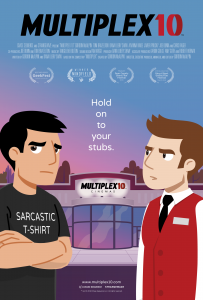 Multiplex 10 is here!
Although Multiplex 10 has ended, an animated prequel/reboot called Multiplex 10 was funded through Kickstarter in 2017 and is NOW AVAILABLE for rent or purchase on Vimeo On Demand, Amazon Video, and elsewhere! And an all-new, irregularly-updated Multiplex 10 web series (set after the short film) recently launched on YouTube! Learn more about the web series on the official Multiplex 10 website!
Stay up to date on all things Multiplex, Multiplex 10 and me (a.k.a. Gordon McAlpin) by subscribing to my newsletter!