Notes from the Manager
The trailer Kurt is watching is for Nine Lives. It looks like an utter trainwreck. Even though Spacey and Walken probably didn't spend a lot of time working on the movie (Spacey likely spent a short time on set pre- and post-cat, and then a couple of days in a sound booth; Walken's role sounds like he'll pop up in maybe three scenes), it's pretty stunning how they'd stoop to something this vapid.
As for the strip, to be continued later this week!
Kickstarter backers and Patreon patrons: At least two more pages of bonus comics will get posted this week! See you there soon.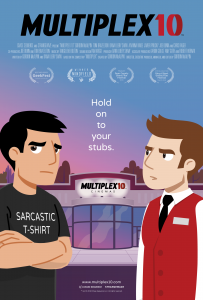 Multiplex 10 is here!
Although Multiplex 10 has ended, an animated prequel/reboot called Multiplex 10 was funded through Kickstarter in 2017 and is NOW AVAILABLE for rent or purchase on Vimeo On Demand, Amazon Video, and elsewhere! And an all-new, irregularly-updated Multiplex 10 web series (set after the short film) recently launched on YouTube! Learn more about the web series on the official Multiplex 10 website!
Stay up to date on all things Multiplex, Multiplex 10 and me (a.k.a. Gordon McAlpin) by subscribing to my newsletter!