Notes from the Manager
Related Strips: #1069: But No Cigar
Late strip. This may keep happening throughout the semester, but it's supposed to be my last semester of grad school, sooooo… necessary evil, I'm afraid!
You can read more about the Patio Theater sale over at DNAinfo.com. (They've got a bunch of links that tell you a lot more than just that article, too.) Another, older take on some of the recent history of the Patio that hasn't been covered in Multiplex can be found in this Chicagoist article, as well.
Since I've met the current owner and he was kind enough to, I do feel a little guilty about having fictional characters talk about him like this, but… well, you know. This is fiction. You guys know that, right?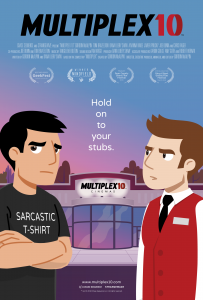 Multiplex 10 is here!
Although Multiplex 10 has ended, an animated prequel/reboot called Multiplex 10 was funded through Kickstarter in 2017 and is NOW AVAILABLE for rent or purchase on Vimeo On Demand, Amazon Video, and elsewhere! And an all-new, irregularly-updated Multiplex 10 web series (set after the short film) recently launched on YouTube! Learn more about the web series on the official Multiplex 10 website!
Stay up to date on all things Multiplex, Multiplex 10 and me (a.k.a. Gordon McAlpin) by subscribing to my newsletter!