Notes from the Manager
There will be a few movie review comics this week, as well — either two or three. Just keep coming back or, you know, subscribe to the RSS feed or whatever.
If you don't live on the Internet 24/7 like I do, who Josh Trank is (the director of Chronicle and the new Fantastic Four movie) and what Pumpkin here is referring to about Twitter may not be common knowledge. That would have been clearer within a couple of strips, too, but… whatever.
Anyway.
Welcome to Book Nine, a.k.a. the final reel of Multiplex (as a webcomic).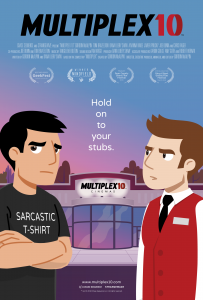 Multiplex 10 is here!
Although Multiplex 10 has ended, an animated prequel/reboot called Multiplex 10 was funded through Kickstarter in 2017 and is NOW AVAILABLE for rent or purchase on Vimeo On Demand, Amazon Video, and elsewhere! And an all-new, irregularly-updated Multiplex 10 web series (set after the short film) recently launched on YouTube! Learn more about the web series on the official Multiplex 10 website!
Stay up to date on all things Multiplex, Multiplex 10 and me (a.k.a. Gordon McAlpin) by subscribing to my newsletter!