Notes from the Manager
Okay, so if you're not at all familiar with the new Bond movie, you might not get that what Jason and Kurt are doing is freerunning through the theater. The first action sequence in Casino Royale is an exhilirating chase between freerunner Sebastien Foucan and Bond (Daniel Craig). Check out the trailers for a few glimpses. For that matter, the whole movie is terrific, if a little tiny bit slow near the end, where the filmmakers needed to shoehorn a semi-believable bit of romance in too little time and came up a bit long. (It was a double-edged sword; I'm just saying.) Anyway. Loved the movie, particularly Daniel Craig's "stone cold killer" take on Bond (to quote my friend Pete), which bodes well for the future of the franchise.
The trailer for Zodiac, which preceded my Bond screening, was also pretty stunning. It looks like it's got a hell of a lot stronger story than David Fincher's last effort, the slick, glorified B-movie Panic Room. I am hyped.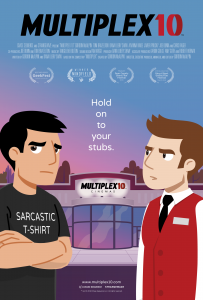 Multiplex 10 is here!
Although Multiplex 10 has ended, an animated prequel/reboot called Multiplex 10 was funded through Kickstarter in 2017 and is NOW AVAILABLE for rent or purchase on Vimeo On Demand, Amazon Video, and elsewhere! And an all-new, irregularly-updated Multiplex 10 web series (set after the short film) recently launched on YouTube! Learn more about the web series on the official Multiplex 10 website!
Stay up to date on all things Multiplex, Multiplex 10 and me (a.k.a. Gordon McAlpin) by subscribing to my newsletter!